Buster Keaton links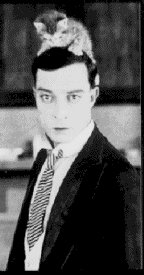 Picture: Buster Keaton in Electric house
Hi! This page is maintained by Juha Takkinen, a Swedish-Finnish Buster Keaton fan living in Linkoping, Sweden. Why Buster? Maybe because he always solves complicated problems in an easy way, using both his mind and physical agility. Or maybe it is his relation to the women in the films? Anyway. Here, I have collected some links to resources about the man, the myth, and the films---as well as some other related stuff. Enjoy!
Links2Go Award in July 1998
Buster Keaton
First published 1995-02-28. This web page has no information on Sewell & Marbury whatsoever.